Hello! You've reached Uncanny Machines, the home page of Dr Cameron Edmond. I'm a writer, researcher and game developer interested in the ways poetry, narrative and programming intersect.

Currently, I am a researcher at UNSW's EPICentre, where I explore using AI for storytelling and communication. I also make short poetry games, bots and other weird interactive things!

I've dropped some of my recent/favourite works below. Check them out, or hit me up if you'd like to collaborate!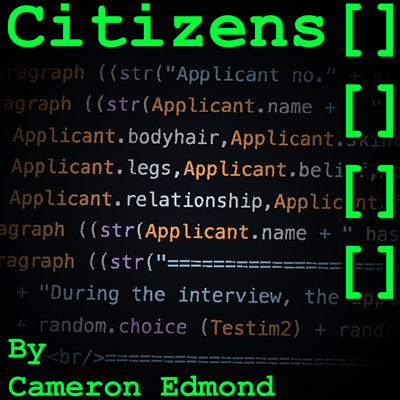 My submission to NaNoGenMo 2017! This program will generate potential citizens for one of the greatest countries the world has ever seen. There is a catch, though: once an applicant is successful, one of their characteristics will be taken on board as a requirement for citizenship. That said, there is always a way around these kind of things, and our glorious leaders might be a bit more fickle than we'd hope...

Written in Python during November 2017, the submitted "novel" seeks 21 citizens for its nation, and generates 22,612 applications to do so. The code and novel are both avaliable from Github.